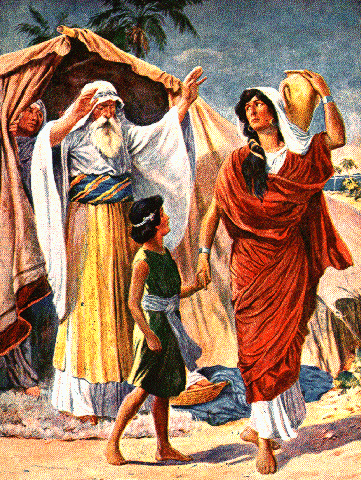 In Genesis 21:9-21, we find the venerable Father Abraham sending his first-born son Ishmael and his mother Hagar into the desert . . . to die.  Perhaps not the best way to open a discussion about God and God's people!
If you aren't familiar with the backstory, here is a brief overview:  an impatient and childless couple plan to have a family via a surrogate mother in order to carry on the family line.  However, God follows through on a promise and Sarah gives birth to son #2 - Isaac.  Combine the drama of two kids from two mothers and one father and then stir in the issue of an inheritance and you get a modern-day sitcom! 
It doesn't take long to begin to put some labels on the characters either.  "Honest Abe"?  Not hardly.  Looking back over the previous chapters we find a pretty typical person who hides the truth when threatened and a man who is more influenced by his spouse than the God of promise.
Sarah?  Well, once again we have a less than stellar personality as she laughs at God's promise to provide her with a son (although in all candor, her advanced age would seem to make this impossible), her impatience in waiting and taking things into her own hands (as she "offers" her maidservant Hagar as a sexual object to Abraham), and now we find her all too willing to sacrifice Isaac's half-brother in order to assure her own child's place at the top of the pecking order.
Hagar and Ishmael seem to be pawns in this great cosmic play, so how are we to interpret this train-wreck of a story?  By looking at the one character who I haven't yet mentioned: God.
If we can look beyond the obvious dysfunction in the Abrahamic household, we can see a larger narrative; a story in which God makes and keeps promises that have to do with our greatest needs, fears, and inabilities.  Let's take a look . . .
God brings happiness in the face of impossibility.
If we had only stopped our reading in the 21st chapter of Genesis at verse 8, we could have more easily seen God at work.  Against all common sense, a barren couple bring forth a son . . . who is ironically named "laughter" (Isaac) as a response to Sarah's snicker when she first heard the promise that in a year, she would be pregnant.  We, who have been on the outside as observers, can giggle along with Sarah as she learns she is carrying a child and an heir to Abraham.  We can also laugh when we consider how it might affect us if we - in advanced age (like 50's, or 60's) suddenly found ourselves in similar circumstances.  Instead of a drama, we would be in the middle of a comedy!  And afgter nearly 8 chapters of the Abraham and Sarah saga, its time for a feast!
But,
The clause that begins verse 9 stands out and sends a bit of a shiver down the spines of all who read scripture.  This clause stands as a turning, or counter-point to the happiness which leads to the feast.  Birth, life, a weaning  - all demand a celebration.  But.  With the joy of pregnancy comes morning sickness and difficulty in finding a comfortable position in which to sleep, those crazy cravings, and ultimately, the pain of labor and delivery.  And then, it starts all over again as we greet the new arrival and live through the late night feedings, the diaper changes, and the terrible twos.  Joy, then difficulty, then joy, then pain . . . the cycle goes on and on.  The constant: God
If we focus too closely on the character traits and failings of our biblical characters of Abraham, Sarah, and Hagar we will miss the unchanging nature of a God who is present in every circumstance no matter how convoluted, no matter how joyful, no matter how difficult.
In rejecting Hagar, Ishmael, and God's instruction to care for one another - especially as family - Abraham washes his hands of the whole situation.  And yet, despite the words attributed to God to let them go into the wilderness, God accompanies Hagar and Ishmael to fulfill another promise: to make of this young man "a great nation."
God sees a woman and a child that no one else wants to have around.  God sees potential beyond the pain of human relationships and God sees possibility where none other dare look.  God hears the cries of both a babe and an anguished mother.  And God opens eyes so that the outcast can see the blessings that God provides.  In this story, a water well, a pregnancy, a new home, a mighty kingdom.
If we, who live in this century can begin to faults, failings, and fallicies of everyday drama, we might be able to see what God is prepared to provide for us.  That's the way that God works in our world.  We ask for miracles and to intercede and disrupt "the way things are" and yet we often close our eyes to other potential miracles that God places before us - miracles that we don't recognize as gifts from above.
What is wrong with the picture of Abraham and Sarah is a kind of willful blindness - a story which should move us to look at the world in different ways as we familiarize ourselves with what already exists that can be a help.  Then, rather than wait for the miraculous to happen at the hands of the Almighty, we can begin to share bread, provide life giving water, work to heal broken relationships, and to help others become great in their own right.
And for we who have been caught up in the cycles of "who is in and who is out" "who is blessed and who is cursed" we can see how God not only is present with the "people of the promise" but also those who have been - for whatever reason - excluded, marginalized, left out and left behind.  If Abe and Sarah are to be commemorated, it is because despite their failings as a family - they provide us, as the family of faith, the model in which God works past our inabilities as the Holy One works behind the scenes in both ordinary and extraordinary ways to fulfill promises made.
If you don't believe me, turn to the pages of the New testament where we read of a family of faith which sent away - killed - God's beloved son, and how God made a way to love, expand, and preserve a flawed people.  People like us.  
Faithfully,
Rob
Please reload
I'm busy working on my blog posts. Watch this space!
Please reload